Dear Friends of the
Azawak
,
VIDEO: Julie's footage of the sprouting Tangarwashane
forest
As you'll see in my welcome letter below, Julie Snorek is now the USA Operations Coordinator for Amman Imman. Last August, Julie returned to Niger, a place where she lived as a Peace Corps Volunteer from 2005-2007. Along with Moumine and Amamatou, two members of our local Amman Imman team, Julie took the grueling ride in a 4x4 to the see for herself the oasis of life that the Tangarwashane borehole has become. Her short video shows evidence of a forest now sprouting in Tangarwashane, just one example of how Amman Imman brings water and development to the Azawak. Click
here
to watch the video.
Welcome Julie
Snorek
, Amman
Imman's
USA Operations Coordinator
!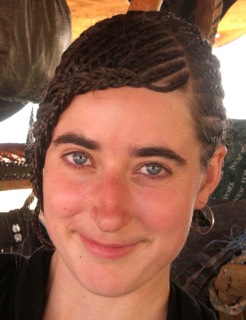 I am ple
ased t
o announce the arrival of Julie
Snorek
as our USA Operations Coordinator. Julie will be coordinating our fundraising efforts, organizing volunteers, following up with partners (including sponsors and donors), conducting outreach, and keeping our Bet
hesda office running smoothly.
Julie's passion for Niger began during her time living in a Tuareg village as a Peace Corps volunteer from 2005 to 2007. I first met Julie in Niamey, during her Peace Corps Swear-in ceremony, and then later at a festival in northern Niger. The festival fell towards the end of my first visit to the Azawak, and so Julie and I talked at great length about all I had witnessed there while visiting several villages on the way back to her village in the south. I was impressed that Julie not only understood the culture and history of the Tuareg people, but also spoke their language, Tamashek. When Julie moved back to the US, she became a dedicated Amman Imman volunteer
, spearheading many outreach efforts, including hosting three exhibitions of Amman Imman's photographs, speaking on stage to 800 Tinariwen (a Malian band whose album is "Aman Iman") concert-goers, and presentating to community and school groups in New England.
Today, Julie and I have unified our passion for the
Azawak
by working more closely together to bring them
water and hope through
Amman
Imman
.
Sincerely yours, for the children of the
Azawak
,
Ariane Alzhara Kirtley
, Founder and Director