Dear Friends of the Azawak,


I hope that this update finds you well! Today I write to share news from Tangarwashane and tell you about the media attention we've been getting, as well as my upcoming live interview with talk-show host, Montel Williams.


An Oasis of Life in the Azawak


Julie Snorek, our newly hired USA Operations Coordinator, visited the Tangarwashane borehole in August and brought back footage and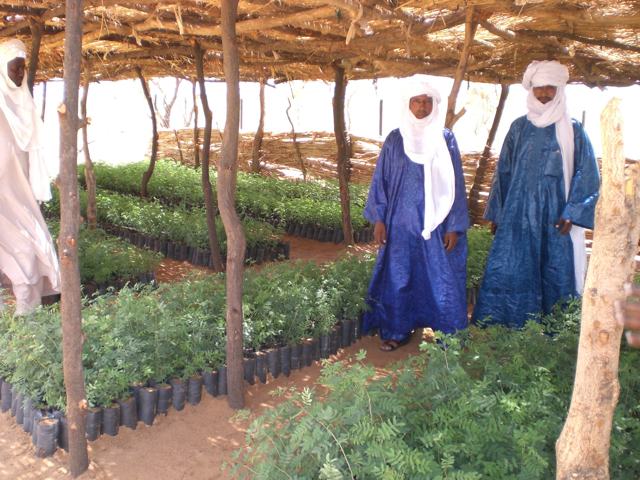 photos of happenings I only dreamt of three years ago. Most impressive is the creation of a Gum Arabica forest from the tree nursery with the help of International Relief and Development (IRD). Julie's footage shows the villagers from Tangarwashane digging parcels to plant their trees, which the families will then use for commerce by selling the sap. IRD and the national government are also helping to improve the population's food security by working with women to build up livestock herds and run a cereal bank. As IRD claims, none of these developments could have taken place without the borehole.

The Tangarwashane borehole is truly becoming an oasis of life, and helping the populations adapt to the consequences of their rapidly changing climate. We still have so much more work to accomplish in order to create life-bearing oases across the Azawak. I am in the United States with my husband and Niger Program Director, Denis and our son Fassely with this goal in mind.
Amman Imman in the Media


Of the many exciting things happening in the USA is the media attention Amman Imman has garnered these past couple of months. Among the most impressive was the four-page coverage in the book "Changing People's Lives While Transforming Your Own" (read about the book and download the article on our website) and my interview published in the World Wide ASPect (download the article here). I hope to write soon announcing my most recent interviews in some major publications.
Listen live to Ariane's Interview with Montel Williams on Air America, October 23, 2009 at 11:30 am


Please listen in as my interview with Montel Williams is broadcast live throughout the country on Air America's "Montel Across America" show on October 23, 2009 at 11:30 am EST. Our conversation will take place at the Washington Convention Center during the 2009 kickoff of the Marine Corps Marathon. Tune in to Air America online at http://airamerica.com.
An Emmy Award-winning host for one of the longest-running talk shows in history, Montel Williams has presented challenging issues to American households for the past 17 years. With Amman Imman, Montel is tackling two of the most important issues of the century - water scarcity and climate change. Together we will discuss Amman Imman and how the children of the Azawak are the human faces of climate change today.


Air America is partnering with Amman Imman by helping with such various things as providing commercial air spots, offering commercial air time to our partners, and organizing interviews with such highly respected talk-show hosts such as Montel Williams and Jack Rice (air date to be announced soon). We are so grateful to Air America, and particularly station manager Marty Sheehan, for their incredible support!! Please spread the word by telling your friends and listening at 11:30 EST, October 23rd 2009 on Air America.

Yours in peace, for our brothers and sisters in the Azawak.
Ariane