Dear Friends of the Azawak,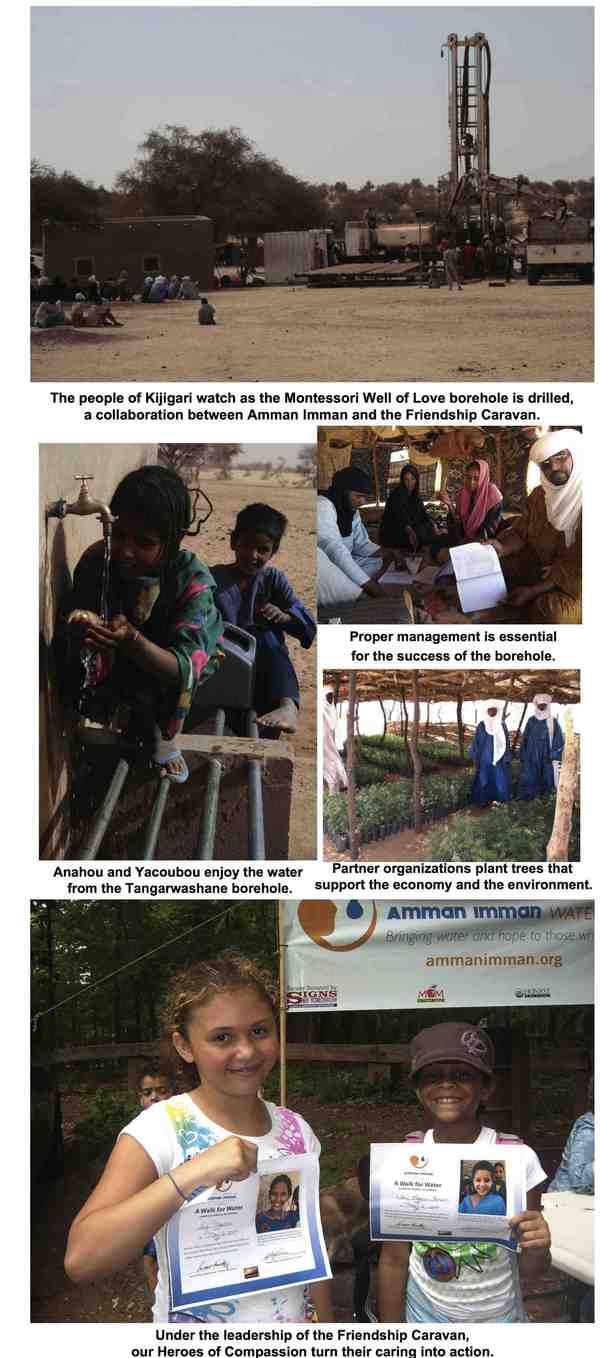 As things move forward preparing to build the Kijigari infrastructure he
re in Niger, exciting news also comes from the United States. The Friendship Caravan and Amman Imman: Water is Life are proud to share our new organizational developments. Since February 2006, Amman Imman has been operating as the humanitarian program of the 501c3, The Friendship Caravan. Under the tremendous leadership of its originat
ing organization, Amman Imman grew and greatly expanded
to the point of establishing flourishing operations in America and in Niger. Thanks to this success, Amman Imman has developed the strong foundation necessary to launch itself as an independent organization and is currently applying for 501c3 status. Amman
Imman: Water is Life and the Friendship Caravan will continue to collaborate to bring water and hope to the populations of the Azawak. Among the
first things they have done together is the drilling of the
Montessori Well of Love in the village of Kij
i
gari.
Under the direction of the Friendship Caravan, Amman Imman accomp
lished remarkable endeavors for the people of the
Azawak over the past four years. In Niger, it constructed a water bearing borehole for 25,000 people
and animals in the
village of Tangarwashane, and has now drilled the borehole of Kijigari. It was also a crucial part of getting the borehole of Tchinwagari built. The program has also ascertained the proper management of these boreholes. As a program of the Friendship Caravan, Amman Imman has determined the location of future borehole
s and operations through various studies, and has worked closely with partner organizations in Niger to provide other forms of direly needed assistance, such as education, health, food, and environmental protection.
In the United States, the Friendship Caravan established Amman Imman's administrative, fundraising, and awareness raising structure. Amman Imman has an office and a small staff, as well as a blossoming service learning program entitled Wells of Love. Indeed, thanks to the Friendship Caravan's support, Amman Imman has developed a large network of schools around the world supporting the Azawak, with an army of loving and passionate students coined Heroes of Compassion.
The Friendship Caravan also brought a great deal of notoriety for Amman Imman by garnering international media attention ranging from Newsweek to Africa International, interviews including celebrities such as Montel Williams and Jack Rice, as well as the invaluable endorsement of renowned humanitarian activist and actress, Mia Farrow.
Thanks to the Friendship Caravan, Amman Imman developed a Board of Advisors of well known and respected individuals. Friendship Caravan president Michael Kirtley will personally continue to serve the people of the Azawak as Amman Imman's Honorary President, and Chairman of the Board of Advisors.
Please join us in celebrating Amman Imman's transition from program to organization, as well as thanking and honoring the Friendship Caravan for providing Amman Imman with a powerful foundation.
Yours for the Children of the Azawak,
Ariane
Donate to Amman Imman: Water is Life